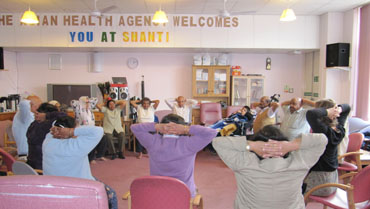 Health & Well Being
Health Education & Health Promotion Programme
Health & Wellbeing related activity underpins all our services and each service offers a range of activity to improve physical & mental health & wellbeing amongst all service groups and particularly older people & adults including those with disabilities and carers.
The key outcomes of our health education & health programme activity include:
increasing knowledge of healthy cooking & adoption of healthy eating
increasing awareness of preventive actions & local services on CHDs, strokes, cancers, diabetes & other conditions affecting older people
increasing levels of access to or connection with existing health & social care services
improved personal physical & mental wellness
Improving better self management of health conditions
These activities are available across all our projects 
Luncheon Service (in Hammersmith)
Freshly cooked & authentic Asian vegetarian & non vegetarian (including halal) meals available Mondays to Fridays between 12.00 noon to 2:30pm at our Shanti Centre in Hammersmith
A take away service is also available & open to all local residents.
Centre based & outreach activity to improve diet, healthy cooking & eating habits & lifestyles personal & mental wellness & connecting older people with existing services.
Fare Food: Relieving Poverty & Reducing Food Waste(in Hammersmith)
A scheme where free foodstuffs including fresh & frozen foods are received on a weekly basis every Thursdays through FoodShareProgramme& distributed to  users& local older people in need at heavily subsidised rates & at times free of charge to promote health eating & wellbeing.
For menus & prices
Please contact us on
020 8811 1501 Or email: director@taha.org.uk